Jim Abromaitis was a forward for the UConn Huskies from 1975 – 1980. He's a member of the UConn Basketball All-Century Ballot, UConn's 1,000-point scoring club, and is currently a UConn Trustee and Commissioner of Connecticut's Department of Economic and Community Development. In June 2004, I met Jim and he shared some Connecticut and European experiences on and off the court.

Jim started playing basketball when he was in grammar school, and was on his first basketball team when he was in the fourth grade. From then on he played until around 1986 when he finished his professional basketball career. He went to Holy Cross High School in Waterbury, Connecticut and was good friends, teammates and later roommates with Tony Hanson (former UConn basketball player). "We used to wear out the roads between Bridgeport, New Haven and Waterbury, playing ball, just finding games. We'd load up the car, and find out where people were playing. It was a lot of fun." Jim and Tony continue to maintain a great friendship 25 years later.

The Holy Cross teams Jim played on had some very good players and went undefeated during the regular season when he was a sophomore. While Holy Cross didn't win any state championships during his years there, Jim was recognized as a High School All-American and was named to the All-State squad. Jim said he had a pretty good high school career, and a terrific coach in Tim McDonald who brought the school to prominence not only in athletics, but also in academics. Tim is currently the principal at Holy Cross, and remains a positive influence on Jim.

In terms of college recruiting, Jim could have gone to a lot of schools, but had narrowed his final choices to Oregon, Virginia, Georgetown and Connecticut. In the end, he chose Connecticut. "I guess it probably boiled down to being close to home. UConn provided a chance for my folks and friends to be able to attend the games. But Coach Dee Rowe was probably a bigger influence. There's nobody better in the business than Dee, and to this day, I can't make a move without consulting with Dee. He continues to be a big part of my life." When Jim arrived at UConn he knew most of the team through Tony who was already there for two years, so it was an easy adjustment for him. "We had a pretty good year my freshman year. We went to the National Collegiate Athletic Association Sweet Sixteen. It was a great experience and I'd like to think it started to get people excited about the basketball program at UConn."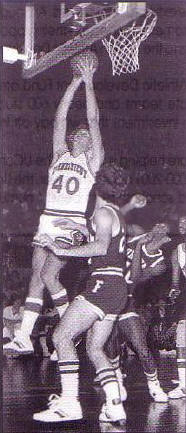 A special memory for Jim at UConn was the closeness that developed among the players. Tony is in England, but they still see each other once or twice a year. Dennis Wolff is Head Basketball Coach at Boston University, but he and Jim have stayed close friends, and their kids have grown up together. As for Randy Lavigne and Jeff Carr, Jim sees them more often because they are
in the Hartford area. Joe Whelton is in Germany, but Jim sees him
in the summer when he comes back to Connecticut to visit. "Those core guys were hard working and never out for themselves, it was really a team."

One not-so-fond memory for Jim was when the Hartford Civic Center roof collapsed after a UConn game, but thankfully no one was hurt. Some good came out of it; UConn had to reschedule the Civic Center games, and ended up playing them at the New Haven Coliseum. Playing in another part of the state helped expand UConn's fan base.

Early in his senior year, Jim had a knee injury and was out for the season. Jim graduated with his Bachelors degree in Urban Studies, but still had one year of basketball eligibility left. The Athletic Director, John Toner encouraged Jim to go to graduate school at UConn, and play his fourth year of basketball. Jim took the advice, and got his Master's Degree in Education fifteen months later, and to this day is appreciative of John's advice to go to graduate school.

During Jim's senior year of college, he was drafted by the New Jersey Nets. They offered Jim a contract, and he signed it. Between the signing of the contract, and the date he had to report to the Nets, Jim had an offer to play in Spain with a team that was the European Champion, a premier sporting club called Real Madrid. It was an opportunity Jim couldn't pass up—playing basketball, getting paid, and seeing the world. He went to Spain, rather than playing for the Nets and enjoyed the lifestyle. He liked it so much he stayed in Europe playing in Spain, Italy, Turkey, and then finished his professional career in Japan. Jim has no regrets about going overseas because it provided him with a broader perspective on everything, not just basketball.

While playing professional basketball was in Tokyo, Jim was also able to work for Toyota Motor Corporation, which owned the team. "I thought this would be a pretty good situation to get some real life business experience, and have a chance to still keep playing ball on weekends." But when he and his wife, Debra, who is also from Connecticut, had their first son Jason and his ankle problems began, his views began to change. They decided it was time to come back to Connecticut and start a new chapter in their lives.

Once back in Connecticut, Jim worked for CT Bank & Trust (CBT) for the next ten years. CBT became Fleet Bank, and while at Fleet, Jim began working as a "loaned executive" for the State of Connecticut. At the end of the one-year project, Jim thought he'd be going back to Fleet but was offered a job as Commissioner of the Department of Economic and Community Development. He's been the department's commissioner since 1997.

When asked how basketball has changed at UConn over the years, Jim said, "The level of support for athletics—and the commitment to academics—has improved at UConn. The realization that athletics can be a positive influence has led to bigger and better things for the university as a whole. Today there is a lot of academic support for the athletes that wasn't available 20 years ago. It's very structured now, with tutoring on the road for example. And while the athletes at UConn have gained greater and greater national recognition over the years, the infrastructure- and academic-related improvements have been even more remarkable. I like to tell people who are alumni that every day that school gets better, their degree has more value."

Jim said that the level and caliber of the players has also changed. Years ago UConn teams had a number of good players; today all the players are top notch. Media coverage of UConn athletics has also changed dramatically, especially with the advent of ESPN. "ESPN is probably the thing that changed college basketball more than anything or anyone could have done."

Jim and his wife went to San Antonio, Texas this year and saw UConn win its second National Championship, and enjoyed the experience. They had also gone to St. Petersburg, Florida in 1999 when UConn won its first National Championship. While Jim acknowledges that next year's team may be hurt by the loss of Ben Gordon, Taliek Brown and Emeka Okafor, he believes that with the nucleus of players he has returning, Coach Calhoun can once again make UConn a national contender.

While Coach Calhoun has clearly brought basketball at UConn to a new level, Jim would like to believe that former UConn players like himself had something to do with putting the university on the map, or at least getting it noticed for its potential. Jim's coaches while at UConn were both Dee Rowe and Dom Perno. Dom was the assistant coach and after Dee, Dom took over as head coach where his role was much different. "I have all the respect in the world for Dom and we had some very good years." Regarding Dee, "I'm not sure any of what's taken place at UConn would have happened if Dee Rowe hadn't been at UConn. He had the names and the connections, the desire to touch the right people, and the drive to make sure things happened. Dee and John Toner (athletic director at the time) made the decision to get into the Big East, and made it a reality. Their vision had a lot to do with UConn's long-term success."

Jim met his wife, Debra, while at UConn. They've been married for 23 years. Debra is also an athlete, an ice skater who was very well respected in ice dancing. She teaches skating professionally now, is a nursing supervisor at the UConn Health Center, and has an excellent work ethic that she has passed on to their children. They have two sons. Jason, 18, just finished his freshman year at Yale. He is a very good student and plays for Yale's basketball team. Tim, 14, is in high school and plays a number of sports—including basketball.