Richard "RIP" Hamilton was a Guard for the UConn Huskies from 1996 – 1999. He was the Most Valuable Player of the 1999 National Collegiate Athletic Association Final Four when UConn won its first National Championship. In three years at UConn, RIP enjoyed many honors, among them were reaching his 1,000th point in only 55 games—the fastest in UConn history—and finishing second in UConn career scoring with 2,036 points. I had the pleasure of talking to RIP in January 2006 about his basketball accomplishments, memories, and future goals.

At the age of seven, RIP and all the kids of his age in the small town of Coatesville, PA began playing basketball, football, and baseball. Depending on the season, they played the sport. As kids growing up through high school the same group of guys played sports together, and they all believed they were better than each other, and all treated each other the same. "I always loved the game of basketball but it's not until I got older that I realized basketball was what I wanted to do as a career. I think the only person that believed I was going to be in the National Basketball Association was my father."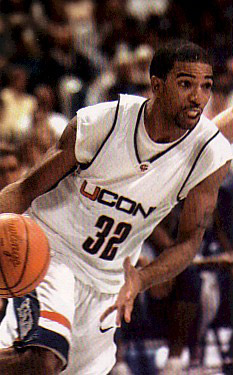 When RIP reached his junior and senior years at Coatesville High School, he began to realize he was very talented on the court. As a senior in high school RIP was named to the McDonalds All American Team, and was rated one of the Top 20 players in the nation. His most important memory from high school was receiving his first recruiting letters – from Rice University, and Rutgers University. He went on to receive recruiting letters from "everybody, everybody." RIP went on official recruiting visits to Temple University, Clemson University, and the University of Connecticut. After visiting UConn he didn't need to go anywhere else. "I came to Connecticut on my official visit, went to a basketball game, and it seemed like it was an NBA team. I saw how the fans in Connecticut love college basketball, and thought to myself, if I never get an opportunity to play in the NBA, playing in Connecticut would be like playing in the NBA."

Once he arrived at UConn he felt the transition from high school to college was rather difficult. RIP had never been away from Coatesville. Prior to his recruiting visits, he hadn't ever flown on a plane. Now in Storrs, on his own, he had to adjust.

RIP's most memorable game at UConn was during his freshman year, a game against Kansas, the #1 team in the country at the time. "I think I had 18 points in the first half, and we were up by about 10 points. We ended up loosing by one or two points but that game set the tone for us freshman—Kevin Freeman, Jake Voskuhl, and my college careers." Among RIP's many honors, and accomplishments while at the University of Connecticut were being Big East Rookie of the week, named to the Big East All-Rookie Team, Big East Player of the Week, Big East All-Tournament Team twice, Big East Co-Player of the year, Outstanding Player of the NCAA West Regionals, and Most Valuable Player of the Final Four.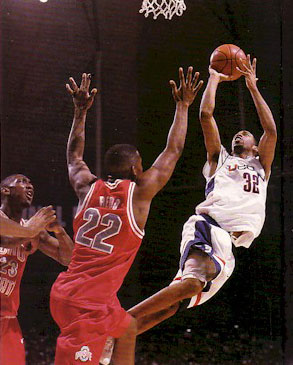 When UConn won its first ever NCAA Championship in 1999, RIP was a junior. It was time to make the decision to leave UConn, and declare himself eligible for the NBA draft. He had considered that same decision at the end of his sophomore year, but didn't feel he was ready to go. Now at the end of his junior year, he was faced with the decision again. "I still didn't want to go. I always tell people that situations and decisions in life are all about timing. I knew it was my time to leave school, and go to the NBA. I had accomplished everything I had wanted to accomplish in college. I'm happy I did leave when I left, but I had so much fun at college that I didn't want to leave."

In June of 1999, RIP was selected #7 in the NBA draft by the Washington Wizards. "It was one of the greatest experiences of my life. As a kid you watch the draft, and you watch guys shake the hand of David Stern, NBA Commissioner, and I think I gave him a hug. I didn't really look at what number pick I went, it was just the simple fact that I made it, and now that I made it, I just didn't want to be satisfied with just making it."

The transition from college to the NBA was a little easier than from high school to college. Coach Calhoun had provided good training both on and off the court. RIP's experience at UConn taught him how to be a man. Living on his own, constantly being viewed by the fans, the media, and six dozen beat writers. At the NBA level it's more, but of the same—fans and media from across the country—but RIP was already experienced so the transition was not that difficult.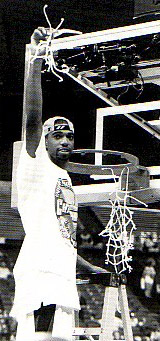 At the beginning of the 2002 NBA season, RIP was traded to the Detroit Pistons-currently the best team in the NBA with a great combination of players. RIP continues to enjoy his accomplishments in the NBA. In 2004 the Pistons won the NBA Championship, making RIP the only former UConn player to receive the greatest honor in college, and in the NBA. Earlier this week RIP was named to the 2006 NBA All Star Team. His other accomplishments in the NBA include Player of the week 1/16/2006, in 2005 he became the fifth player in the Detroit Piston franchise to score over 1,000 post season points, and he was ranked ninth among NBA two guards in scoring, and third in assists in 2005.

When asked what a day is like in the life of RIP he responded, "Its fun. I'm still the same guy. I still have the people from Coatesville around me that I grew up with. I'm blessed that I have the opportunity to take care of my family, myself, and do everything that I ever imagined or dreamed of." Having accomplished so much at such a young age RIP's future goals are to try to win another NBA Championship, try to make the NBA All Star Team (at the time of this interview it had not been announced yet, that RIP made the 2006 All Star Team), and try to keep on doing everything positive, not being satisfied with being satisfied.

RIP had some complimentary things to say about Coach Calhoun, "Oh I love him. Coach came to my house, and kept it real with me. Coach said, 'I'm not going to guarantee you a starting spot but it's there for you to go ahead and get.' Coach told me that everything I wanted to accomplish as a basketball player and as a student could be done at the University of Connecticut. I love him for that. All my dreams at that age, and all the things coach said, actually came true."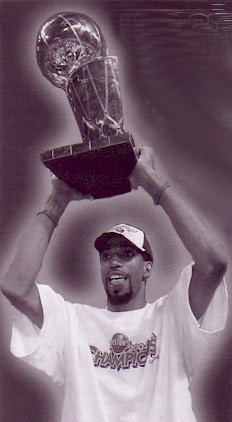 RIP doesn't get to attend many UConn games because of conflicts with his NBA schedule but he stays up to date on what the team is doing, and brags about UConn every day in the locker room. Regarding UConn's chances of getting to this years Final Four, RIP says, "They've got a great chance. As long as they stay committed to winning, and listening to Coach Calhoun, and they play with 110% effort." If UConn is at the Final Four, RIP will be there to watch.

RIP's family; mother, father, two younger sisters, and one younger brother have followed RIP's career traveling from Pennsylvania to Connecticut to see almost all of his UConn games, and continue to see as many of his NBA games as possible.

During the off season of the NBA, and as time permits, RIP goes back to Coatesville to visit family and friends. "I organize basketball clinics, and basketball camps to teach basketball fundamentals to kids who have dreams of playing in the NBA like I did as a child."

Looking back at his time spent at UConn Rip said, "College was the best experience of my life. I had a great time at the University of Connecticut, the fans were great, the guys on the team were great, and the coaching staff was great."

As much as life is the same, it's different. Though RIP is the same guy he always was and thinks he can walk around, and no one will see him as being anything other than the kid from Coatesville, at the same time he laughs and acknowledges "life is different, now everybody not just in Connecticut or Detroit but everybody in the world knows who I am."