Donyell Marshall was a Center for the UConn Huskies from 1991 – 1994, and is a member of the UConn Basketball All Century Team. He was UConn's first Consensus First Team All-American, and finalist for National Player of the Year Honors. Donyell was Big East Conference, Eastern College Athletic Conference, and New England Player of the year. He holds many records at UConn including single season total points, and field goals, and is the top scoring junior in Husky history with 25.1 points per game. This is a short list of the accomplishments that could go on a basketball resume of Donyell Marshall. Donyell is entering his 11th season in the National Basketball Association currently playing for the Cleveland Cavaliers. I had the opportunity to talk to Donyell in October, 2005 about his many accomplishments, and reflect on his life of sports.

As a youth, Donyell played football, baseball and basketball. "I think my first love was football. Even today when I have a Sunday off, I sit down and watch football." Between ninth and eleventh grade Donyell grew eight inches from 6'0" to 6"8", and was very skinny. That's when he became very interested in basketball, as he realized football wasn't going to be a perfect match for him.

While at Reading High School in Reading, Pennsylvania, Donyell's greatest memory as a basketball player is his team winning 29 straight games, breaking the record in the county for the most wins in a row. His personal greatest memories were winning state player, and Mid Atlantic state player of the year honors, being selected high school McDonalds All American, and playing in the McDonalds All American game (back then it was called The Capital Classic Game). He enjoyed the friendships from high school, and the experience of the college recruiting process, being able to share all of this with the people from his high school, and hometown is very memorable.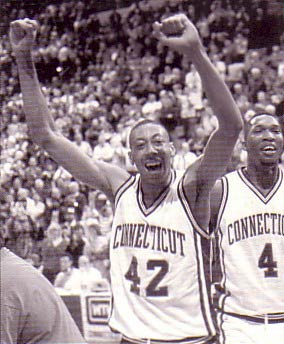 "I always wanted to go to college. I didn't think I was good enough at first." Local colleges such as LaSalle University (Philadelphia, Pennsylvania) and Saint Joseph's College (Philadelphia, Pennsylvania) began sending letters of interest. Then, Donyell went to the NIKE All American ABCD Camp, and his future began to change. He performed very well at the camp, and soon letters of interest were coming from schools all over the country. By the time he returned home, Donyell's mom already had a trash bag full of letters. "I was pretty much overwhelmed. I didn't know what to think, say, or do."

Donyell's decision to come to Connecticut was very tough. Early in the decision process he was going to sign a letter of intent to go to Syracuse University, but his mom talked him out of it. Then he was going to go to the University of Maryland, but at the time Maryland had violated some National Collegiate Athletic Association rules, and as punishment were not eligible to participate in the NCAA Tournament. Donyell didn't want to be held out of the tournament for something that happened before he was at the school. After playing in the McDonalds All American game held in Springfield, Massachusetts, Donyell stopped in Storrs, CT to visit with Coach Calhoun. On Donyell's way home from his visit, he committed to UConn. He knew CT was where he wanted to play.

Once he arrived at UConn, after his first week of practice he told Coach Calhoun he didn't think he should be here, he wasn't good enough to play on the level of CT basketball. Coach Calhoun firmly told Donyell that if he couldn't play at CT's level, he wouldn't have been recruited. Things got much better, and realistically for Donyell, the transition from high school to college wasn't that drastic. It wasn't like being the "big fish" in high school and being one of many "big fish" in college. Donyell was the "big fish" in high school, and the "big fish" in college. Donyell humbly said, "I was UConn's first All American, the first to have played in the McDonalds All American game. I was the first whatever. Everybody was big at their high school but I think at that point in time, I was the biggest name to go there so to me I was probably still the biggest thing there. None of us came in with egos. That was the good thing. We all got along good from day one."

As a freshman Donyell said he averaged 11 points per game, which was better than he thought he would do. His sophomore year was a bit disappointing. The team record was 15 wins and 13 losses. During the summer between his sophomore and junior years, Donyell was selected to be a member of the USA team giving him the opportunity to play with some great players. He still enjoys looking at the team picture, thinking about his teammates, and thinking about who made it to the National Basketball Association, and who is still playing in the NBA from that team. It was his junior year at UConn that the team really came together. "We won the Big East regular season honors. That is a great memory considering we had no seniors on the team." Personally that year Donyell enjoyed two 42-point games, and became a national household name. Disappointments were also experienced, loosing the Big East Championship Tournament, and not making it to the Final Four in the NCAA Tournament. "We had the team to be able to make it to the Final Four that year. We felt we let coach down."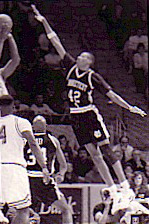 After his junior year, Donyell made the very difficult decision to declare himself eligible for the NBA draft. "After I made the announcement that I was leaving school, the last couple of days, I remember how difficult it was to leave my teammates, and friends that I had made over those three years. It was a very difficult decision."

Donyell was selected as the #4 draft pick in 1994, UConn's highest pick ever (at that time) in the NBA draft, by the Minnesota Timberwolves. "Obviously you want to be picked as high in the draft as you can but just to be able to walk across that stage, and shake the hand of David Stern –NBA Commissioner, is what you dream of. For me, to be able to do it as the 4th person, I had a smile from ear to ear. It was something I'll always remember." Although in his rookie year he made the Rookie All Star Team, it was a difficult first year. He was traded to the Golden State Warriors, where he struggled his second and third years as well. Since his third year in the NBA, Donyell has turned things around. "I went from my second and third year, people saying I was a "bust" (failure) to being a solid, consistent player in the league. That is something that I take pride in to this day, and am very proud of myself."

Donyell started his NBA career with the Minnesota Timberwolves where he played for a half year before being traded to the Golden State warriors for the next five-and-a-half years. Donyell's next stop was playing for the Utah Jazz for two years then the Toronto Raptors for two years and in the summer of 2005, Donyell was traded to the Cleveland Cavaliers. His thoughts about the Cavaliers are, "I'm very happy with the way things are going. I think we are going to be able to go deep into the playoffs."

Donyell continues to follow UConn basketball and had some thoughts on the current UConn team. "They are definitely a top five team. The team is experienced and Coach Calhoun is always going to find a way to win." If UConn makes it to the NCAA Final Four in 2006, Donyell hopes to be there but it will depend on if his own basketball schedule will permit it or not.

When asked if UConn basketball has changed since he left, Donyell laughed and said, "Yeah, they've won two National Championships." UConn basketball has gotten better, and during NBA locker room conversations, Donyell enjoys bragging rights about his former college team.



Donyell had some complimentary things to say about Coach Calhoun. "Coach Calhoun is a great guy. I think any player who's played for him learns to love the man. He was some of our father figure, he disciplined us, he loved us, and he cared for us as if we were his own – all of us." Eleven years removed from UConn, and when Donyell makes a mistake in a basketball game that Coach Calhoun saw on television, Donyell gets a call to hear about it.

Donyell met is wife, Leea, in Minnesota while playing for the Timberwolves. He has four children, three sons, Marquis, age 12 who enjoys playing basketball. Paryss, age 9 wants to be a football player, Donyell Jr, age 8 is still more interested in cartoons than sports and Donyell's daughter, Devynn is four years old, and wants to become a choreographer.

What Donyell is most proud of in life are his children. They bring a smile to his face and they love him not because he's a basketball player but because he is their dad. "My kids are my biggest accomplishment in my career, and in my life."

Looking back, Donyell had a great experience while at UConn, and encourages all kids to go to college before jumping to the pros. "It was the greatest time of my life, without anything to worry about except going to school, and playing basketball."