Ricky Moore was a Guard for the UConn Huskies from 1995 – 1999. He's a member of the UConn Basketball All Century Team, and was co-captain of UConn's first ever National Collegiate Athletic Association Championship Team in 1999, playing a key role in the Final Four games against Ohio State and Duke. I had the pleasure of talking to Ricky in September 2004 about his basketball experiences, memories, and his current career path.

Ricky became interested in both football and basketball around age ten or eleven, and was very good at both sports. His first love in sports was football because it was more popular in the south, and he had been around his brother who played a lot of football, and went to college on a football scholarship.

During his freshman year of high school the basketball team record was 4 wins and 22 losses. Ricky decided he should focus on one sport, and become really good. "I felt all along that basketball would be more successful for me," so he chose basketball, and began working out, and practicing drills every morning at 5:00 AM at the YMCA with a couple other guys before going to school, and after school he practiced with the team. The hard work paid off, the team record was 26 wins and 3 losses during his sophomore year. "I realized that when I put the work in to it that I could become a really good basketball player so I continued the same schedule of workout all through my high school career." His junior year the team record was 27 wins and 3 losses, and Ricky's senior year the team won the State Championship, had a record of 33 wins and 1 loss, and were ranked 9th in the country.

College recruiters became interested in Ricky. Coach Howie Dickenman (former UConn Assistant Coach) came to watch Ricky pretty regularly, and Coach Calhoun also came to see Ricky during his senior year. UConn's interest in Ricky peaked Ricky's interest, and he started following UConn basketball during his junior year of high school. "I really liked their style of basketball, and I felt that with all the guys that were coming back, we could be pretty good, and have a chance at a National Championship." Although he had scholarship offers to almost every university, he decided on UConn. "I decided that UConn was going to be the school that I wanted to go to, and fortunately for me it turned out to be one of the best decisions of my life."

Ricky was ranked around 40th in the country of top recruits during his senior year of high school. He was among a stacked class with players like Stephon Marbury, Kevin Garnett, and Ron Mercer. When he arrived at UConn, they were also stacked with players like Ray Allen, Doron Sheffer, and Travis Knight. Ricky worked hard, and continually got better throughout his career.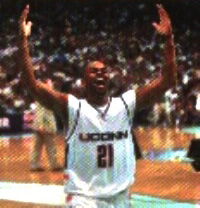 A game that Ricky remembers clearly was during his freshman year at UConn. It was the Big East Championship game against Georgetown University at Madison Square Garden. UConn had lost to Georgetown earlier in the season by 25 points. Georgetown had Allen Iverson, and about five other guys who are now playing in the National Basketball Association. Ricky scored 14 points, played great defense on Allen Iverson, and UConn won the Big East Championship. It was the first of three Big East Championships while Ricky was there. Another great memory was winning the first ever NCAA Championship in 1999, a once in a lifetime experience. "I can be anywhere in the United States or even playing in Europe, and I always run into American guys who ask me what I've done with my championship ring. I tell them I don't wear my ring right now, I'm trying to get in the NBA, and work on getting another ring."

Since graduating from UConn in four years with a Bachelors Degree in Social and Political History, Ricky's been focusing on his basketball career. His first year out of college he tried out for the Detroit Pistons, but they had Jerry Stackhouse, and Grant Hill on the team, and Ricky didn't make the team. He then played in the Central Basketball Association (a semi pro league) for the Connecticut Pride. Ricky has also tried out for the Charlotte Hornets, and spent some time playing in Europe, Germany, Turkey, and Austria over the last few years. He's had some great experiences on each team, met a lot of new people, and learned new cultures. He particularly enjoyed Germany, and the German League. On each team he's enjoyed success. While spending a lot of time playing basketball out of the country, playing in Germany his team finished with the best record they ever had in the conference. In Austria the team had just moved from the second division up to first division, and it made it to the semi finals.

Ricky isn't able to watch a lot of UConn games, but he was able to watch the Final Four this year. He believes that if Emeka Okafor wasn't in foul trouble during the game against Duke, UConn would have beat Duke by a lot of points, and the championship game against Georgia Teach wasn't really much of a game. "I knew nobody really had a chance, I didn't feel anybody had the strength or talent to compete with UConn." He thinks this year they are going to be pretty good too. They may not be first or second in the Big East, but they'll be somewhere close to the top, and they'll make the NCAA Tournament, and give it a good run.

Ricky's thoughts on Coach Calhoun, "I think coach is a very, very, good coach. He's demanding but builds good relationships with his players, and everyone respects him after they leave. You may not understand coach's reasons for getting you to work so hard until you're in a situation on the court or in life, and the only way to persevere is through hard work."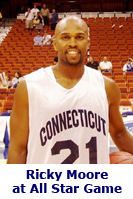 Ricky currently resides in Charlotte, North Carolina, and is engaged to be married in June 2005 to his fiancée, Heather. For his immediate future, when I spoke to Ricky he was looking forward to a tryout he had the following two days with the Atlanta Hawks. Hopefully he'll make the team, and be playing in the NBA this season, and if not he'll probably play in Europe. It will depend on what the Atlanta Hawks really need for their team but as Ricky said, and we know, "There are three things that I'm definitely going to do 1) I'm going to defend 2) I'm going to be able to run the team and 3) I'm going to play hard."