Doron Sheffer was a Guard for the Huskies from 1993 – 1996. He is the only player from UConn to score 1,000 points and add over 500 assists in three varsity seasons and he was Big East Conference Rookie of the Year in 1993-94. Doron is also a member of the UConn Basketball All Century Team. I had the opportunity to talk to Doron by telephone from his home in Jerusalem in February, 2004, when he shared some U.S. college experiences and basketball career memories.
Doron started playing basketball when he was 10 or 12 years old along with many other hobbies, soccer and tennis among them. He never thought or dreamed about being a basketball player until he was 16 or 17 years old and realized he was very good at it. "I decided I'd go and play and see how good I can be and how far it will take me and many teams wanted me to join them."
During his teenage years, Doron played three years for a club team in the North of Israel in Galil-Elyon and had a lot of success. His team won the Israeli Championship beating Maccabi Tel-Aviv, the biggest team in Europe, which has won 39 of the last 40 years. Doron, like all men in Israel, served his three-year term in the army.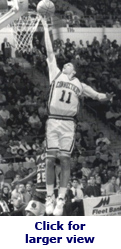 It was time for Doron to go to college. Many colleges were recruiting him, Connecticut, Kentucky, Temple and Miami Universities among them. He chose UConn. "I knew Nadav (Henefeld, former UConn player from Israel) was there, Coach Calhoun obviously was one of the reasons to join the team and it seemed like a very good program that would give me a chance to play and succeed and that's what actually happened." After three years at UConn and a basketball record of 89 wins and 12 losses, the school was ranked No. 1 in the country, had won the Big East Championship and reached the National Collegiate Athletic Association Tournament Sweet Sixteen and Final 8. He had a great experience on and off the court, living away from home and playing in a college atmosphere. He remembered many magical moments at UConn, like playing against Allen Iverson (former Georgetown University player) and winning the Big East Championship Tournament with Ray Allen (former teammate) in the game's final moments.
After college, Doron was drafted by the Los Angeles Clippers and was given a guaranteed contract but he decided to go back to Israel and play for Maccabi Tel-Aviv, the biggest team in Israel. He played for Maccabi for the next four years, which also included some very special moments and experiences. At the age of 28, Doron retired from basketball. "My heart told me it was time to leave the floor, to say good-bye because I couldn't do it with all my heart and I didn't want to play the game that I love so much when I'm not 100% involved in doing it. It was a very strong decision with a lot of emotion and it was a big drama in Israel but it was very peaceful and complete for me."
During retirement, Doron traveled all over the world to India, South America, Brazil and Costa Rica. Doron was also diagnosed with a cancerous tumor during this time. Luckily the tumor was removed and no chemotherapy was needed, however Doron lost 30-40 pounds from being ill and not working out like he did when playing basketball.
After being away from basketball for three years, Doron decided it was time to come back. He began working out and training and gaining weight and muscle. In January, 2003 he officially rejoined Maccabi Tel-Aviv to finish his contract for a half year. He had come back to a very good team and didn't get a lot of playing time. "In the fall of 2003, I moved to a team in Jerusalem. I'm playing a lot, getting better every week, every month, every game and I think I can improve in this game that I love so much and we'll see how far this game will take me this time. I know the sky is the limit and step by step I'm playing and living my dream."
Doron has a three-year-old daughter, Ori, who lives in Tel-Aviv with her mom. Doron said that every time there is a ball around Ori likes playing with it and not only basketball but football too. Doron and his wife, Taliah, live in Jerusalem and the team he currently plays for is called Hapoel.
Doron hasn't been able to watch UConn much since he left but he hears about them and knows they do well. He did see the National Championship game in 1999 and he said it was great to come to Connecticut two years ago to visit and play at the UConn alumni reunion game. "It was beautiful to see all the family and friends in Connecticut." Doron wasn't able to attend the Final Four this year because he was still playing basketball in Jerusalem.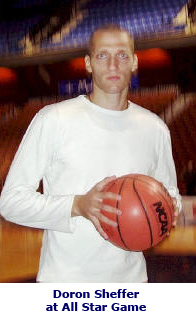 When he speaks about his former coach, Doron said that so many players and coaches come and go and Coach Calhoun is really the foundation that is the heart and soul of the program. "I salute him and have much respect for him." Doron enjoyed his experience playing at UConn, with the pressure and intensity that were involved in being a part of the basketball team. "Basketball is a gift for me, but UConn also prepares a person to deal with life obstacles and challenges and the difficulties and ups and downs of life."