Ann Strother was a Guard/Forward for the UConn Huskies from 2002 – 2006. She currently holds the record for playing the most minutes in UConn women's basketball history. She was a key member of two National Collegiate Athletic Association Championship Teams, and two Big East Tournament Championship Teams. Ann was selected 15th in the Women's National Basketball Association Draft in 2006 by the Houston Comets and currently plays for the Indiana Fever. I had the pleasure of meeting Ann while her WNBA team was in Connecticut for a game in June 2007.
Ann grew up in Iowa where her father introduced her to basketball when she was very young. "My dad grew up on a farm and played a lot of basketball. They had baskets all over their house, in the barn, and everywhere." Soon Ann was playing basketball all the time, in her driveway, with her friends at school, and by the time she was in middle school she started getting serious about it.
"Our family sport was swimming but I remember telling my mom I didn't want to swim anymore, I just wanted to play basketball. At the time I was a pretty good swimmer, and regarding basketball I had the kneepads, the goggles, and I was tall, gawky and not very coordinated. My mom told me I could focus on basketball but I shouldn't give up swimming yet. I did both for about a year then chose basketball, and since then I've just played basketball."
By the time Ann reached high school her family had moved to Castle Rock, Colorado. She went to Heritage High School for two years then transferred to Highlands Ranch High School where she helped the basketball team to win two State Championships. "I had some good teammates around me, and some good role players, a good mix of people. I never looked at myself as being the main person. I looked at it as this is my job; I'm the go to person." During the summer after her freshman and sophomore years of high school, Ann played for a team that went to Paris for two weeks to play in a tournament and get some European exposure. Ann played on an Athletic Amateur Union team and while traveling to tournaments she used her time wisely visiting schools that would later help her in making her college selection decision.
Ann received her first college-recruiting letter when she was in the eighth grade. "I remember I got my first letter from the University of Iowa, and I was so excited because I was only in the eighth grade." It was the University of Connecticut, University of Tennessee, Notre Dame University, University of Colorado, Vanderbilt University and Stanford University that Ann made official visits to, having narrowed her choices to these based on basketball and academics. Eventually Ann received so many recruiting letters that her mom recently reminded her the amount of space they were taking up in their family basement.
During the summer before her senior year of high school Ann was selected to play on the USA Team in the Czech Republic. Coach Auriemma was the coach, and Diana Taurasi was on the team. "After that summer experience, I kind of had the thought in mind that UConn was the place I really wanted to go."
When Ann took her official recruiting visit to UConn, she saw the UConn/Tennessee game. "That game made me think, wow, I'm about to play on that court in front of that many fans. UConn seemed like a perfect fit for me, and what I wanted to accomplish."
Ann had already met future UConn teammates Nicole Wolff, Barbara Turner and Willnett Crockett through AAU tournaments. They started talking to each other after their visits to UConn, and decided together they would all commit to UConn.
Having experienced playing for Coach Auriemma on the USA team the transition from high school to college was much easier for Ann. "I had learned a lot from Coach already. I knew what plays he liked to run, his offense, his style, what drills we'd be running in practice, and what he expected from everyone. It was kind of like I had already experienced my freshman year before I arrived at UConn."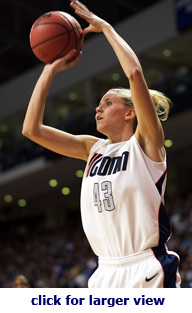 While at UConn, Ann was an important member of the team winning a National Championship her freshman and sophomore years. The games leading up to the Final Four were the toughest. "Coach Auriemma had told the team that the opposing team was going to make every shot, and if they threw up a prayer shot, they would make that too. He was right. What I remember most about the two championship games was the positive energy that everyone had. We knew we worked the hardest to get there, that we deserved to be there, and that we were going to win it."
Ann's junior year was a rebuilding year. Things didn't go as well as planned, and mistakes cost them. The most disappointing loss that Ann will remember for awhile was as a senior, losing in the NCAA Tournament Elite Eight by one point to Duke. "You always want to end your college career on the highest note. Although our team had come a long way, and accomplished a lot from the prior season, we were unable to get to the Final Four." Ann had mixed feelings about the weeks after that loss. She was sad because she'd be leaving for the WNBA draft, the college experience part of her life was over, but she was happy for what would be the next chapter in her life. Ann was selected #15 in the 2006 WNBA draft to the Houston Comets and immediately traded to the Phoenix Mercury.
The transition from college to the WNBA was the toughest Ann had ever experienced. She hardly played during her first season. "I went from playing the most minutes in UConn history, to not playing at all. It's a very humbling experience." This season Ann was traded to the Indiana Fever where she feels like she's improving, learning and getting a little more comfortable with time.
During the off-season of the WNBA, Ann goes to Europe to play basketball—she played in Russia her first year there. "It was another interesting experience. When I arrived, the coach asked me what position I played so he didn't know what my basketball skills were." Before long Ann went from playing three to five minutes per game to playing 25 to 30 minutes per game. This coming season, Ann will be going to Spain to play with a few more familiar people; one of her Fever teammates, and former UConn teammate Ashley Battle also plays in Spain.
Ann's thoughts on her former UConn coach are, "Coach Auriemma really loves his job, and knows how to create a team of people that work well together. He demands greatness, and if you're putting forth the effort every night, giving 100% when you're on the court, that's what he cares about. He makes an impact in your life where you want to be professional, and be all that you can be because of him."
Ann thinks the current UConn team has the talent and the experience with many senior players on the team to win the National Championship. "It will be a matter of how badly they want to win. It will be exciting to see how it all comes together at the end of the season."
When not playing basketball Ann enjoys spending time with her family, her boyfriend, Joe, and her new puppy Rudy. Ann has recently started a non profit organization called "Ann Strother Basketball Court Project" - to help with the financing of basketball courts around the world. "I got the idea from my sisters best friend who lived in Costa Rica for a year. She was working there and noticed how little there was for children to do. She asked the kids what they would want the most, and believe it or not they said they wanted a basketball court, so now through my organization, we're going to try and build a court this year." Please let us know if you are interested in contributing and we'll get your request to Ann.
Ann ended our conversation by saying, "My experience at UConn contributes to my life in many ways. Everything I've learned from UConn, especially from Coach Auriemma, the way that he lives his life, and the passion he coaches with, I hope to incorporate into my life, in my basketball career and beyond.